1) USE OF LANGUAGE: CONNECTORS
Here you have a list of useful connectors. Do you know them all? Look them up if necessary!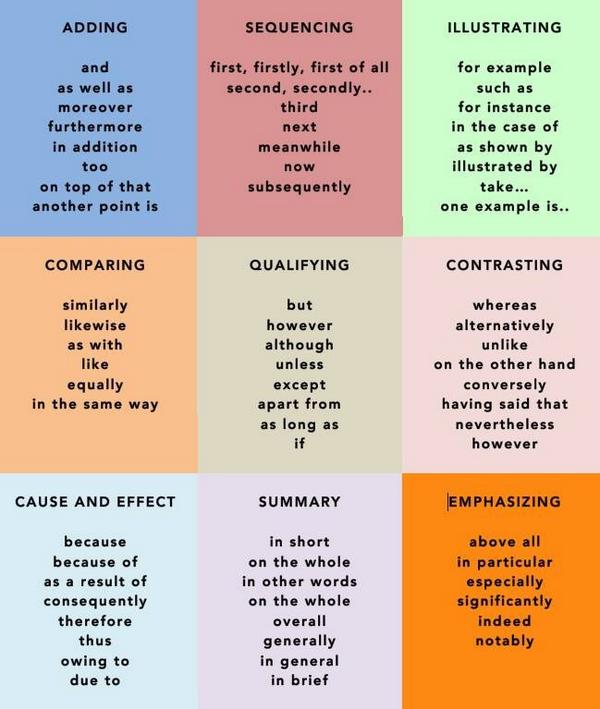 Sentence Connectors
are a great way of improving your English. Why? Because we use them
to make more sophisticated sentences.
Example: "London is a very exciting city; nevertheless it is also very expensive" or
"Despite the fact that London is very expensive, it is also very exciting"
!
Some connectors are followed by a NOUN/ -ING FORM (despite/ in spite OF/ because OF/...), whereas other connectors need to be followed by a subject+verb.
There are various types of connectors. It's not important that you know them all yet, but this information will be handy in a few months.

We can divide sentence connectors into:
Coordinating Conjunctions
They connect words, phrases and clauses. They are usually found in the middle of a sentence with a comma (,) just before the conjuction, or at the beginning of the sentence.
Coordinating Conjunctions:
for
and
nor
but
or
yet
so
Correlative Conjunctions
They connect equal sentence elements together (like two nouns) and are always composed by two words.
Correlative Conjunctions:
both…and
not only…but also
not…but
either…or
neither…nor
whether…or
as…as
Subordinating Conjunctions
They connect a dependent clause and an independent clause and establish a relationship between them. They happen at the beginning of a sentence (with a comma in the middle separating the clauses) or in the middle of a sentence with no comma.
Subordinating Conjunctions:
| | | | |
| --- | --- | --- | --- |
| after | if | though | although |
| if only | till | as | in order that |
| unless | as if | now that | until |
| as long as | once | when | as though |
| rather than | whenever | because | since |
| where | before | so that | whereas |
| even if | than | wherever | even though |
| that | that | while | |
Linking Adverbs and Transition Words
They connect two independent sentences. They provide transition between ideas. They come at the beginning of a sentence or after a strong pause, such as ";" and are often followed by a comma.
Linking Adverbs and Transition Words:
| | | | |
| --- | --- | --- | --- |
| accordingly | however | nonetheless | also |
| indeed | otherwise | besides | instead |
| similarly | consequently | likewise | still |
| conversely | meanwhile | subsequently | finally |
| moreover | then | furthermore | nevertheless |
| therefore | hence | next | thus |
Now practise the use of connectors (there are 14 exercises, with answers):
CLICK HERE
2) SPEAKING PRACTICE:
EDUCATION
a) You'll watch a
short video
(7 min) in which you'll see how a set of 6 questions regarding education could be answered. Remember that in your final exam you'll be asked to answer some questions too, so this is going to help you a lot. Watch, listen and read!
b) Now prepare your own answers for the 6 questions. Remember to use connectors to link your ideas.